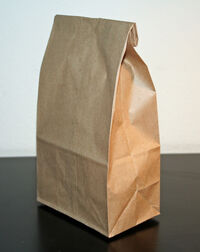 Don't the the classic boring brown paper bag influence your creativity when making lunch for your kids. Spice up your lunches so your kids won't trade their sandwich at lunchtime.
One of the key things to remember is that anything gets boring when you have it everyday. So try some new things out when packing lunch. Rather than regular sandwich bread, try using mini bagels, pitas, croissants, or even make a wrap with a tortilla. It isn't any harder but it makes the ingredients inside somehow more appealing. So in this case what is on the outside does count.
Lunchtime is normally combined with playtime or free time so kids often scarf things down or eat until their friends are ready to go outside and play. Taking time to chop food up or putting in smaller, more diverse portions with help with your child's eating.
Here are a few fun ideas:
Make a pasta salad with ingredients your child likes. This dish serves well cold and is a perfect way to get some vegetables into your child's lunch.
Make a themed wrap as their main dish. Try a Southwest chicken wrap with chicken black beans, corn, cheese, salsa, lettuce, and anything else that sounds good.
So stick with the brown bag but rethink what you are sending to school with your children.
Ad blocker interference detected!
Wikia is a free-to-use site that makes money from advertising. We have a modified experience for viewers using ad blockers

Wikia is not accessible if you've made further modifications. Remove the custom ad blocker rule(s) and the page will load as expected.