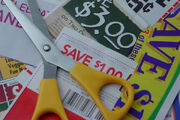 With the Department of Agriculture projecting a 4% rise in U.S. food costs this year, many families are looking for ways to get grub down without running up the bills. Coupon evangelist Stephanie Nelson has a solution. Touting her "Strategic Shopping" methods on her website CouponMom.com, Nelson has amassed a following of over 3.4 million members who use her site to digitally "snip" savings.
"It's possible to fight the rising cost of groceries without sacrificing your favorite foods," says Nelson, who has appeared on Oprah, the Today Show, The View and Good Morning America as well as in Wall Street Journal and the New York Times among other outlets.
"If shoppers follow our strategies, they can save a lot of money, even thousands of dollars in a year's time," advises Nelson.
Here's a sketch of some of her tips:
Plan your meals and shopping lists around featured sale items.
Know how your stores' savings programs work. Combining strategies can result in free items.
Use grocery coupons, ideally when the item is on sale.
"Buy the Sunday newspaper—75 percent of grocery coupons come from the newspaper. Buy two to three copies per week to save dramatically," writes Nelson. Heck, you might just save the moribund print media industry. Likewise, there are thousands of online coupons (many of which are available on Nelson's site).
Stock up on common items when they hit their lowest price.
Be flexible about brands and stores. No time to be frivolous – point and clip and make a meal of deals.
Ad blocker interference detected!
Wikia is a free-to-use site that makes money from advertising. We have a modified experience for viewers using ad blockers

Wikia is not accessible if you've made further modifications. Remove the custom ad blocker rule(s) and the page will load as expected.