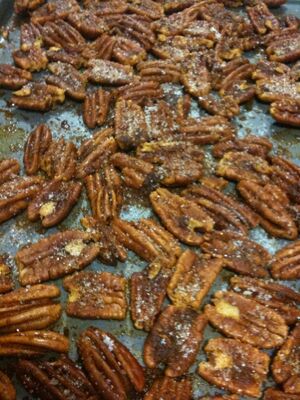 Prep Time: 5 minutes
Cook Time: 45 minutes
Yields: 3 1/2cups
Description
Edit
Spicy, spicy pecans.
Ingredients
Edit
3 1/2 cups shelled, raw pecans (halved)
4 tablespoons butter (unsalted)
1 tablespoon corn syrup
1 teaspoon paprika
1 teaspoon cayenne pepper
1 teaspoon cinnamon
1/2 teaspoon nutmeg
1/2 teaspoon ground ginger
1/2 teaspoon all spice
1 teaspoon salt
1 tablespoon sugar
Directions
Edit
Preheat oven to 250 degrees
Combine spices, salt and sugar in small bowl; set aside 1 teaspoon mixture
Melt butter in small pan over very low heat. Skim foam from top.
Add spices to butter, whisk. Add corn syrup.
Add pecans to pan, stir
Spread pecans on a cookie sheet and place in oven for 45 minutes. Pecans will darken. Remove from sheet and sprinkle remaining teaspoon of spices over top.
Store in airtight container. Keeps for up to 2 weeks.
Ad blocker interference detected!
Wikia is a free-to-use site that makes money from advertising. We have a modified experience for viewers using ad blockers

Wikia is not accessible if you've made further modifications. Remove the custom ad blocker rule(s) and the page will load as expected.