Description
Edit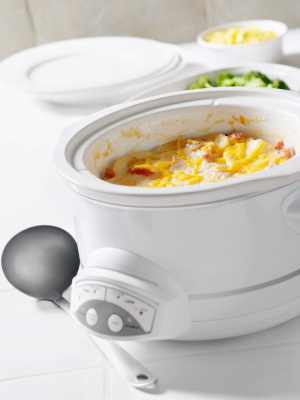 Scalloped w:c:recipes:potatoes are sure to be a hit with any crowd. This recipe may be doubled for a 5 to 6-quart crockpot.
Ingredients
Edit
Directions
Edit
Toss potato slices in 1 cup water and ½ teaspoon cream of tartar, then drain.
Put half of sliced potatoes in a buttered or greased 3½ to 4-quart slow cooker.
Dot with half of the butter.
Repeat layers; dot with remaining butter.
Spoon soup over the top.
Cover and cook on low 7 to 9 hours, or 3 to 4 hours on high.
Add cheese about 30 minutes before serving.
Ad blocker interference detected!
Wikia is a free-to-use site that makes money from advertising. We have a modified experience for viewers using ad blockers

Wikia is not accessible if you've made further modifications. Remove the custom ad blocker rule(s) and the page will load as expected.