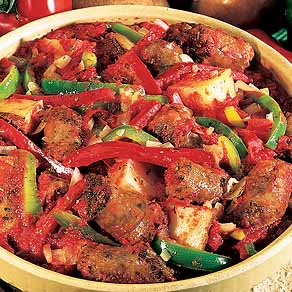 Prep Time:
Cook Time: 2 hours
Yields: 8 servings.
Description
Edit
Yummy with a kick, my auntie has worked very hard to create it!
Ingredients
Edit
Potatoes
Thyme
Ground black pepper
Salt
Italian sweet sausages
Green peppers
Yellow peppers
Orange peppers
Onions
Garlic
Vinegar (to your liking)
Olive oil
Directions
Edit
1) Take potatoes and dice them.
2) Then season them with the thyme, ground black pepper, and salt
3) Take the Italian sweet sausages, green peppers, yellow peppers, orange peppers, onions, garlic, olive oil, and vinegar and poor it all into one dish.
4) Now take the seasoned poatoes and poor them in the dish, too.
5) Cook for 2 hours, at 350 degrees Fahrenheit.
6) Eat up!
Ad blocker interference detected!
Wikia is a free-to-use site that makes money from advertising. We have a modified experience for viewers using ad blockers

Wikia is not accessible if you've made further modifications. Remove the custom ad blocker rule(s) and the page will load as expected.