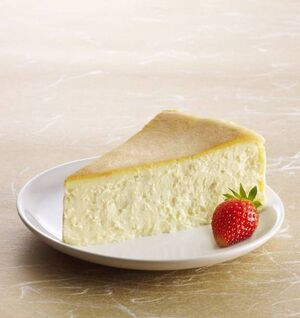 Prep Time: 15 minutes
Cook Time: 2 hours
Yields: 8 servings
Description
Edit
Ingredients
Edit
2 (8 ounce) packages cream cheese, softened
1 (16 ounce) container ricotta cheese
1 1/2 cups white sugar
4 eggs
1 tablespoon lemon juice
1 teaspoon vanilla extract
3 tablespoons cornstarch
3 tablespoons flour
1/2 cup butter, melted and cooled
1 pint sour cream
Directions
Edit
1. Preheat oven to 350 degrees F (175 degrees C). Lightly grease a springform pan.
2. Mix the cream cheese and ricotta cheese together in a mixing bowl until well combined.
3. Stir in the sugar, eggs, lemon juice, vanilla, cornstarch, flour, and butter. Add the sour cream last and stir. Pour the mixture into the prepared springform pan.
4. Bake in the preheated oven 1 hour; turn oven off and leave in oven 1 hour more. Allow to cool completely in refrigerator before serving.
Ad blocker interference detected!
Wikia is a free-to-use site that makes money from advertising. We have a modified experience for viewers using ad blockers

Wikia is not accessible if you've made further modifications. Remove the custom ad blocker rule(s) and the page will load as expected.