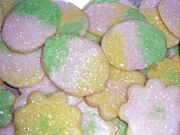 Here's an easy Easter Cookie to do with your kids. Make sparkly Easter cookies using store bought cookie dough. It's as easy as 1-2-3. These cookies also make a pretty edible gift to give to family and friends.
Just roll out the dough and use fun Easter shapes to cut out the cookies. If you don't have any bunny or egg cookie cutters, then just cut out some egg shapes free-hand or use the top of a glass to cut out round shapes. Stretch the rounds into ovals and wallah! Easter eggs!
Sprinkle cookies with fun pastel sprinkles and bake. That's it. And what pretty Easter cookies you and your kids made together. Such memories!
Ad blocker interference detected!
Wikia is a free-to-use site that makes money from advertising. We have a modified experience for viewers using ad blockers

Wikia is not accessible if you've made further modifications. Remove the custom ad blocker rule(s) and the page will load as expected.