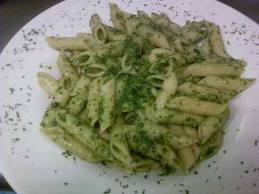 Prep Time:
Cook Time: 18 minutes
Yields: 12
Ingredients
Edit
1/3 cup olive oil
3 large garlic cloves
3 cups basil
2/3 cup parmesan cheese
1 tablespoon hand squeezed lemon juice
1 teaspoon Tony's Creole seasoning
1 pound penne
1/3 stick butter
Add 3 seasoned and browned chunked chicken breasts (OPTIONAL)
Directions
Edit
1) Blend the olive oil, garlic and basil in a blender.
2) Put the parmesan, lemon juice, butter,Tony's in with the mixture, and blend until smooth.
3) cook the penne in salted, boiling water until Al Dente.
4) Drain the penne in a colander.
5) Add the pesto and (chicken OPTIONAL) stir.
6) Bon Apatite!
Ad blocker interference detected!
Wikia is a free-to-use site that makes money from advertising. We have a modified experience for viewers using ad blockers

Wikia is not accessible if you've made further modifications. Remove the custom ad blocker rule(s) and the page will load as expected.