Ingredients:
Pillsbury pie crests
Peanut butter & Jam
Milk
Oven
---
Instructions
Preheat oven to 350 degrees.
Fully open pie crests to a circular dough format.
Spread Peanut butter first all over the dough.
Spread Jam of your choice all over the dough.
Roll the pie crest(s) into a hotdog form.
Put on a baking tray/tinfoil platter.
Bake for 15/20 minutes.
Creates a great treat for the family.
Should look something like this.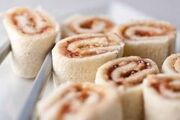 Sources: My kind and loving grandmother <3.
Ad blocker interference detected!
Wikia is a free-to-use site that makes money from advertising. We have a modified experience for viewers using ad blockers

Wikia is not accessible if you've made further modifications. Remove the custom ad blocker rule(s) and the page will load as expected.