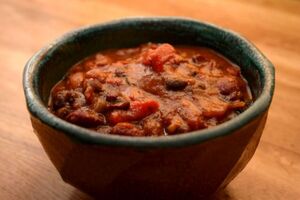 Prep Time: 20 minutes
Cook Time: 4 hours
Yields: about 8 servings
Description
Edit
A healthy alternative, most people can't even tell it's not ground beef. Using one of your favorite hot sauces, this recipe can be tailored to those you're serving - from a mild & flavorful chili to a real barn-burner!
—If you are making this recipe for a vegan, please note that not all "vegetarian ground beef crumbles" are suitable for vegans. Many of them contain egg, or milk derivatives--vegans do not consume these items.
Ingredients
Edit
Directions
Edit
In a slow cooker combine soy crumbles, beans, onion, celery, bell peppers, bay leaves, chili powder, molasses, bouillon, cilantro, hot sauce, salt, pepper and 1 cup water. Cook on high for 3 hours.
Dissolve flour in 1 cup hot water. Stir into chili and cook 1 more hour.
Ad blocker interference detected!
Wikia is a free-to-use site that makes money from advertising. We have a modified experience for viewers using ad blockers

Wikia is not accessible if you've made further modifications. Remove the custom ad blocker rule(s) and the page will load as expected.