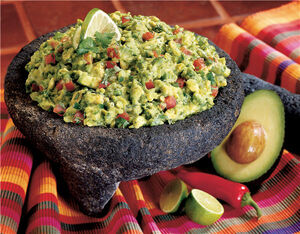 Prep Time: 10 minutes
Cook Time: 1 hour
Yields: 4 servings
Description
Edit
Taco night at my house usually means guacamole first, tacos second. If my kids are around, I tend to leave out the cayenne pepper- they don't like it too spicy!
Ingredients
Edit
3 avocados - peeled, pitted, and mashed
1 lime, juiced
1 teaspoon salt
1/2 cup diced onion
3 tablespoons chopped fresh cilantro
2 roma (plum) tomatoes, diced
1 teaspoon minced garlic
1 pinch ground cayenne pepper (optional)
Directions
Edit
1. In a medium bowl, mash together the avocados, lime juice, and salt. Mix in onion, cilantro, tomatoes, and garlic. Stir in cayenne pepper.
2. Refrigerate 1 hour before serving.
Ad blocker interference detected!
Wikia is a free-to-use site that makes money from advertising. We have a modified experience for viewers using ad blockers

Wikia is not accessible if you've made further modifications. Remove the custom ad blocker rule(s) and the page will load as expected.