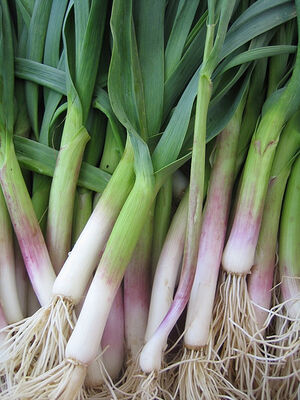 Prep Time: 10 minutes
Cook time: None
Serves: 2 - 4
Description
Edit
A tangy dressing that will take your salad to the next level.
Ingredients
Edit
3 garlic green stalks (green tops cut off)
2-3 bunches of herbs (basil, parsley, and marjoram are great choices)
Juice from 2 large lemons
3 Tbsp. olive oil
1 Tbsp. honey or sugar dissolved in hot water
Salt, to taste
Directions
Edit
Using a food processor or chopping everything finely, mix together all ingredients
Taste for salt
Enjoy! We recommend serving over greens like spinach, romaine, or mixed greens. Add vegetables of your choice.
Ad blocker interference detected!
Wikia is a free-to-use site that makes money from advertising. We have a modified experience for viewers using ad blockers

Wikia is not accessible if you've made further modifications. Remove the custom ad blocker rule(s) and the page will load as expected.