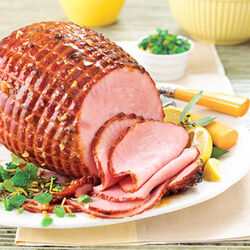 Glazed ham is the perfect centerpiece for your Easter feast! The following recipes has five different glazes you can choose from to garnish your ham.
Ingredients
Edit
8- to 10-lb. fully-cooked boneless ham
1 recipe glaze: Choose a glaze below
1 recipe Mint and Lemon Sprinkle (optional)
Directions
Edit
1. Place ham on rack in roasting pan. Insert an oven-going meat thermometer into center. Bake in 325 degrees F oven 2-1/4 to 2-3/4 hours or until thermometer registers 140 degrees F. Brush ham with desired Holiday Glaze during last 20 to 30 minutes. Serve with Mint and Lemon Sprinkle. Makes 10 to 12 (3-ounce servings) plus leftovers.
2a. Mint and Lemon Sprinkle: Combine 1/2 cup snipped fresh mint, 1 tablespoon shredded lemon peel, and 2 cloves garlic, minced.
2b. Lemon-Mustard Glaze: In a bowl stir together 1/2 cup lemon curd, 1/4 cup Dijon-style mustard, and 4 cloves garlic, minced. Makes 3/4 cup glaze.
2c. Stout Glaze: In a saucepan combine 1/2 cup Irish stout or apple cider and 1/4 cup each honey and butter. Bring to boiling; reduce heat. Simmer, uncovered, 10 minutes. Makes 3/4 cup glaze.
2d. Apricot-Cherry Glaze: In a bowl stir together 1/2 cup each apricot preserves and cherry preserves, and 1 tablespoon lemon juice. Makes 1 cup glaze.
2e. Peach-Pineapple Glaze: In a saucepan combine one undrained 8-ounce can crushed pineapple, 1/2 cup peach preserves, 2 tablespoons cider vinegar, and 1/2 teaspoon ground ginger. Cook and stir over medium heat until heated through. Makes 1-1/4 cups glaze.
If your ham weighs more than 8 pounds, cover it loosely with foil during the first 1 hour of roasting. This will prevent it from drying out.
External Links
Edit
Ad blocker interference detected!
Wikia is a free-to-use site that makes money from advertising. We have a modified experience for viewers using ad blockers

Wikia is not accessible if you've made further modifications. Remove the custom ad blocker rule(s) and the page will load as expected.