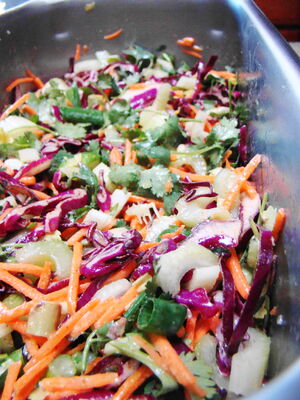 Prep Time: 20 minutes and 2 hours inactive
Cook Time: n/a
Yields: 10-12 servings
Description
Edit
This fresh and easy coleslaw will compliment your main dishes at any barbecue. The crisp crunch with the creamy dressing is sure to please any crowd. Feel free to experiment with your spices and change the flavor profiles.
Ingredients
Edit
1 head green cabbage, shredded
2 carrots, grated
1 red onion, thinly sliced
2 green onions chopped
1 fresh red chile, sliced
1 1/2 cups mayonnaise
1/4 cup Dijon mustard
1 tablespoon cider vinegar
1 lemon, juiced
Pinch sugar
1/2 teaspoon celery seed
Kosher salt and freshly ground black pepper
Directions
Edit
Step One: Prepare the cabbage, carrots, red onion, green onions, and chile then combine in a large bowl.
Step Two: Stir together the mayonnaise, mustard, vinegar, lemon juice, and sugar in another bowl. Pour the dressing over the cabbage mixture and mix.
Step Three: Season the cole slaw with the celery seed, salt, and black pepper.
Step Four: Chill for 2 hours in the refrigerator. Enjoy!
Ad blocker interference detected!
Wikia is a free-to-use site that makes money from advertising. We have a modified experience for viewers using ad blockers

Wikia is not accessible if you've made further modifications. Remove the custom ad blocker rule(s) and the page will load as expected.