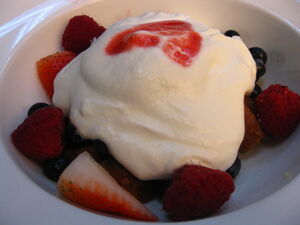 Prep Time: 10 minutes
Cook Time:
Yields: 10 servings
Description
Edit
Trade in your ice cream bowls for a creamy, sweet treat! The smooth texture of sour cream, combined with sweet honey and tart berries is sure to dazzle your tastebuds.
Ingredients
Edit
1 pint fresh raspberries
1 quart fresh strawberries, halved
1 pint fresh blueberries
1 pint fresh blackberries
2 cups reduced-fat sour cream
1/4 cup honey
Directions
Edit
1. Rinse berries. Combine all berries in a large bowl. Set aside.
2. In a separate bowl, combing the sour cream and honey. Stir until honey and sour cream are thoroughly mixed.
3. Serve.
Ad blocker interference detected!
Wikia is a free-to-use site that makes money from advertising. We have a modified experience for viewers using ad blockers

Wikia is not accessible if you've made further modifications. Remove the custom ad blocker rule(s) and the page will load as expected.